Year 3

Welcome to Year 3!
In Year 3 we work really hard to make a good start on our journey at the Junior school.
There are three classes:
Class 1 taught by Mrs Morgan
Class 2 taught by Miss Cook
Class 3 taught by Miss Johnson
We have support from Mrs Adams, Mrs O'Neill, Miss Fieldhouse, Mrs Jackson, Ms Tullo, Mrs Turner, Mrs Taylor and Mrs Kaur.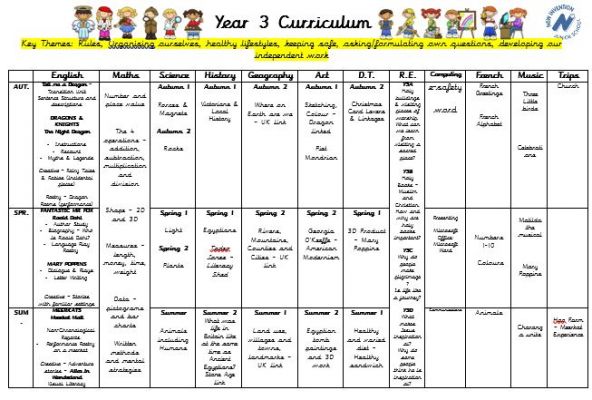 Click the document below to see what Year 3 are learning about throughout the year. We all have class Seesaw pages where we can complete our online work.
In Year 3 we like to earn House Points and rewards for our good behaviour and hard work. We can do that by following our year group rules:
Year 3 Rules
Always do your best work.
Stay in your seat, if you need help put your hand up.
Play nicely on the playground and be kind to other people.
Do not distract people when they are working.
Don't talk when other people are talking, put your hand up if you want to speak.
Move sensibly around school.
Keep the classroom and cloakroom tidy.
Homework is given out on a Friday and we try to encourage the children to hand this in by the following Friday.
Weekly homework can be found on your child's class Seesaw page.
Children should be regularly reading at home (their Collins Big Cat book or their free reader book) and completing a pink journal reading task when they complete books.
Children should also use:
Numbots
Times Tables Rockstars
MyMaths
Spelling Shed